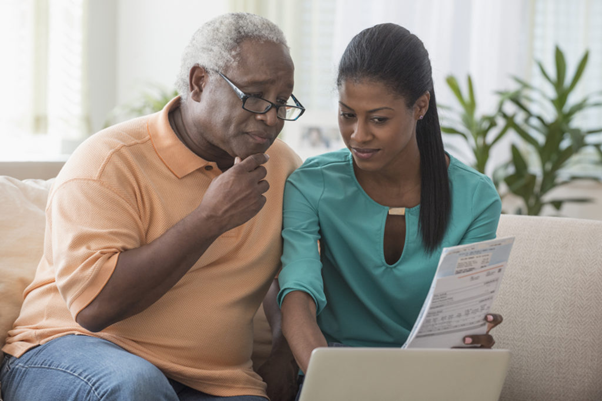 Many of us live a majority of our lives growing up with our parents. These years, as unassuming as they are, will pass by in a flash and exposes us towards realities of the future, when our parents become aged and we begin to shift our priorities in adulthood. Naturally during this process aging parents will not want to burden their loved ones, but many adult children will be at a crossroads, especially if both parent and child have not discussed about plans regarding the parent's future.
This is why a little planning can go a long way and save heartache, stress, time and money in the future. Talking about important issues that your elderly parents will face and having a plan in place can alleviate unnecessary difficulties.
1. Discuss Long-Term Options
Many parents, regardless of their financial standing would be comfortable with their current living situations, but physical and mental challenges may affect that in the future. If something were to happen where living on their own is not an option, what would they prefer? Therefore, it's important to plan ahead for future emergencies, and end-of-life care with your parents.
Some questions to consider include:
Is the current housing situation a good fit for "aging in place"? In what situations would your parents want to move out of their current home and into a different kind of living situation?
Is a more supportive environment, such as moving in with a family member, potentially necessary?
Is their current home safe for aging? Are there hazards or safety issues that should be dealt with?
What housing alternatives are financially viable if your current home is not suitable? You may want to look into housing options like independent living, assisted living, and nursing care to identify the right fit for various situations.

2. Keeping Finances In Order
Some older adults may lose the capacity to manage certain types of financial or legal affairs due to health reasons. In this aspect family members must often consider assisting with legal and financial issues that their parents will have. It's helpful to understand how your parents will be able to financially cover the care they may need and how you can access funds if you'll be the one assisting in paying for their care. Long-term care insurance is an option for future coverage.
3. Create a Health Care Plan
Medical concerns are fairly common in late-life. Older adults are susceptible to health concerns, or chronic illnesses that require medications, monitoring, and other forms of ongoing management. Such problems will make it difficult for seniors to oversee their own medical care and thus family members must often make decisions due to such emergencies like this.
Health protection and health care are all important for optimal aging. Knowing the health problems your parents have is also relevant for you because these may be inherited and may affect your own health and well-being. Some elderly parents may stubbornly insist that their health is fine, but take care to notice any discrepancies that might happen such as: –
Maintenance and/or hygiene issues in living quarters.
Look for warning signs of mental or physical problems that impairs the ability to do everyday tasks.
Abrupt changes in weight, mood and social relationships.
Safety issues and hazards at home that may affect your elderly parent.

Therefore, it is important to research what your parents are going through with their health so you know what they are experiencing, and understand how fast their conditions typically progress and warning signs to look out for when they need help.
4. Will Planning
Throughout their lives, most of our parents have worked hard and made sacrifices to get to where they are now. However, if they have not met with an estate planning attorney yet to create a trust or will to leave behind in the time of their demise, whether it's for their current living quarters, funds, or any valued possessions of note they may have, it may cause their current assets to get tied up in court and may cause frustrations for their next of kin.
Having open and frank conversations with your parents about this matter as soon as possible is imperative to prevent such problems. And similar to finances, you should also plan ahead of this to ensure that their assets aren't lost.
5. Maintaining The Connection
Retirement, as liberating it may seem at first can lead to loneliness and aimlessness in the long run. Learning about how to take care of elderly parents isn't just about future planning. Getting older can lead to changes in social circles and family dynamics.
Although these changes will influence your relationship, it will also catalyse a new relationship between mature adults instead of the parent-child bond relationship you are familiar with. While both of you still have shared memories and your love for each other, you will come to understand and be more satisfied with a relationship that incorporates mutual respect and common interests, and encourages for independence for both you and your parent.
Conclusion
It takes some time to find the right balance for the health and happiness of our elder parents, but he best approach to caring for elderly parents is to remain aware, consider their happiness and comfort and use as many helpful services as possible to make it easier for them in the long run.
http://agecare.com.my/site/wp-content/uploads/2018/10/age-care-logo-6.png
0
0
admin
http://agecare.com.my/site/wp-content/uploads/2018/10/age-care-logo-6.png
admin
2021-02-16 09:00:57
2021-02-16 09:01:47
What You Can Do For Your Aging Parents Right Now