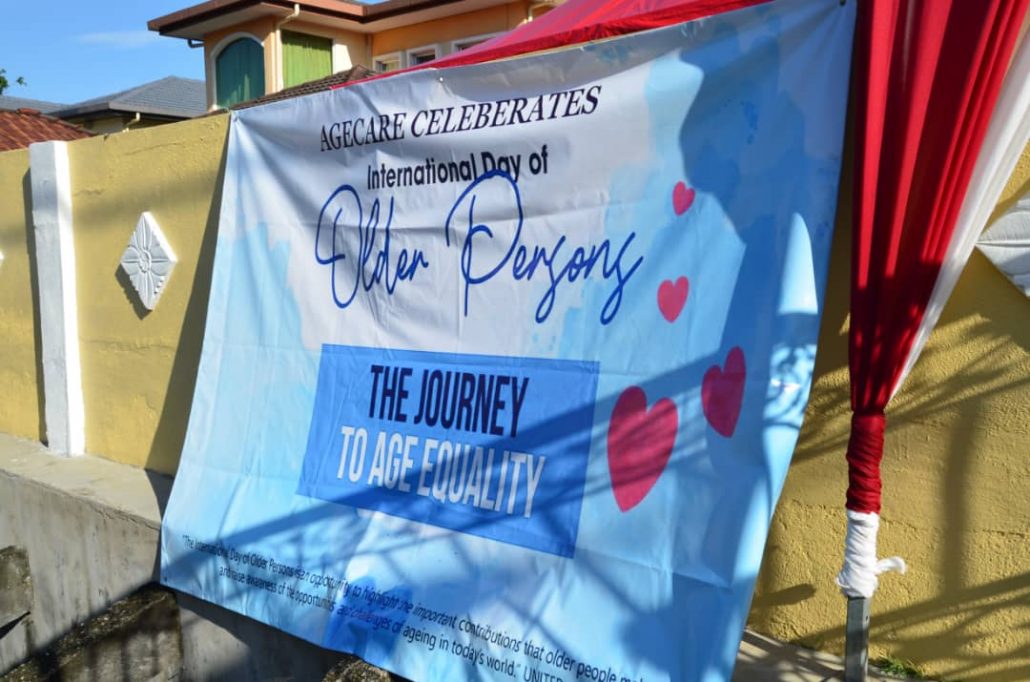 KUALA LUMPUR, 26 September 2020 – In conjunction with the International Day of Older Persons (which is celebrated on 1 Oct), Agecare Sdn Bhd ("Agecare"), a holistic nursing and elderly care centre, celebrated the occasion today as part of its efforts to create greater awareness of the sector as well as recognize the contributions by the elderly community.
"We must appreciate and recognize the contribution by our elders as this sector undergoes transformation to become a significant contributor towards socio-economic development over the next five to ten years.
"First, we have to educate our current and younger generations on the importance of sustaining the elderly care sector given their (elderly) contributions to society. Second, the (elderly) sector is slowly evolving to become an economic "opportunity", that is able to contribute positively towards socio-economic goals, in terms of providing employment, enhancing livelihood of employees, generating revenues and so forth.
"By 2030, 15% of our country's population would comprise elderly persons. In this context, every effort must be made to ensure the holistic development and systematic growth of the elderly care industry," said Jaya Rajamanickam, Founder & Administrator of Agecare at the press conference following the event.
Jaya, who has been a nursing practitioner and educator for more than 25 years, said currently there are numerous challenges faced by the community, and it is the government that has the mechanism and means to implement steps as well as ensure that the needs for adequate long-term care under medical and non-medical services are met.
In achieving the long term goals, some of the challenges that must be addressed include:
i. Human capital incompetence i.e. lack of quality caregivers and operators
ii. Lack of proper infrastructure and facilities
iii. Lack of specialised care services
iv. Unclear Role of Enforcement
v. Lack of Standard Operating Procedures (SOPs)
There is no single Act in the country that regulates both the care centres and nursing homes. Currently, Elderly Care Centres are regulated by the Private Healthcare Facilities and Services Act 1998, under Ministry of Health, whilst the Elderly Centres providing 'low-level of care' is regulated by the Care Centre Act 1993 under Ministry of Women, Family and Community Development.
"These governing laws that protect the elderly must be revisited and enhanced primarily to safeguard the interests and well-being of the elderly. It is important that the Ministry involved in elderly care establish the appropriate protocols and SOPs, standardize facilities as well as encourage community research in home care settings to enhance the quality of elder care in Malaysia," she concluded.
Meanwhile, the International Day of Older Persons (Event) at Agecare attracted about 30 families of elders and nursing patients including university students on attachment.
There were also talks by industry practitioners namely, Dr Paneer Selvam a/l Krishna Moorthy, cardiothoracic specialist, National Heart Institute of Malaya (IJN) and Professor Zahrah Saad, Dean of Nursing & Midwifery, MAHSA University. They spoke on topics related to geriatric and healthcare. There were also performances by the elderly residents at the centre.
AgeCare Sdn Bhd is a healthcare service provider specializing in elder care services. Since its inception in 2014, it has continually committed itself in providing patient-centric care for the elderly and bridging the gap in the provision of continuous and accessible healthcare services for the wider community.
http://agecare.com.my/site/wp-content/uploads/2018/10/age-care-logo-6.png
0
0
admin
http://agecare.com.my/site/wp-content/uploads/2018/10/age-care-logo-6.png
admin
2020-10-17 14:42:08
2020-11-02 16:12:03
AGECARE CELEBRATES INTERNATIONAL DAY OF OLDER PERSONS