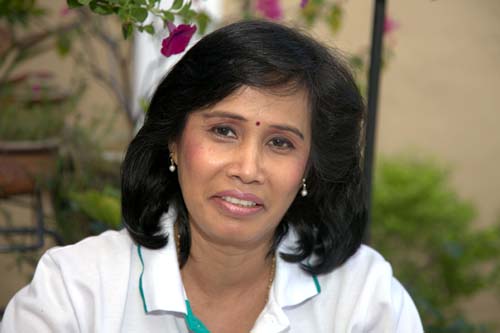 R.Jaya Rajamanickam
Director & Administrator
Agecare Sdn.Bhd
Jaya Rajamanickam was appointed as a Director and Administrator of Agecare Bhd ("Agecare) on 18th of September 2014.
She holds a Master in Education Management from the University of Malaya. Prior to that, she has received her Diploma In Nursing Science from Nursing College Ipoh in 1993, Certificate of Neonatal Nursing from Post Basic School General Hospital of Kuala Lumpur in 1993, and Bachelor In Nursing Science from the University Malaya in 2002.
She has valuable clinical experience as a staff nurse in various setting such as medical surgery, Neonatal Intensive Care Unit, Pediatric Care Unit and Geriatric Care Unit (Elderly Care) in government hospitals for 8 years. In 2003, she moved on her career as a lecturer in nursing colleges and private institutions under the Ministry Of Health. During the period, she has developed a strong interest in teaching and experience in nursing education as well as in clinical practice.
Currently, she is a Director of Nursing Department in Institute of Private Higher Education. In this role, she is managing and teaching responsibilities at both the undergraduate and graduate levels in Nursing University Colleges. Throughout her career, she has also held membership and leadership positions at various colleges and universities.
Throughout her 23 years of experience in healthcare industry, she has dreamed of having her own elderly care center. She is very passionate towards caring for the elderly. Because of it, she has conducted several observations and researches in almost 20 nursing homes and few elderly care centers for the past 5 years. In her observation, she has found the population of the elderly citizens in Malaysia to be increasing and its elderly care services are becoming higher in demand. Meanwhile, the quality of the healthcare, lifestyle, and services for the aged are still sorely lacking. In her opinion, Malaysia's elderly care industry is still in its infancy with a fledgling system and the need for quality facilities and services for the aged are still unmet.
She has also observed that many senior citizens today are actually financially well-off but lack access to services and facilities that can enable them to live independently. Currently, various parties including hospitals, property developers, insurers, and trade group have indicated strong interest in this field. There is money to be made and people are willing to pay for the right quality services and facilities. She believes all these facilities will bring vast business opportunities for the elderly care industry
Therefore, with her vast experiences in nursing practices, she believes that she is able to provide the suitable, proper, loving care services towards elderly. She also has emphasized that compassion, patience and good communication skills are invaluable to success in the aged care industry.